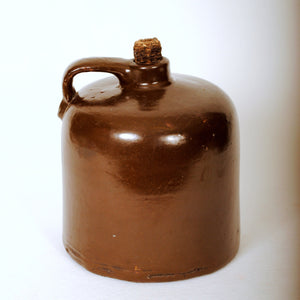 Vintage crockery jug with brown glaze and a corn cob stopper is rustic darling, this jug no doubt held honey or molasses, or moonshine! A true piece of utilitarian Americana kitchen ware, early kitchens were full of these stoneware and earthenware vessels.
A truly charming makeshift cork top, the corn cob has been with this vintage crockery jug for ages and it's stuck firmly in the mouth of this piece. A terrific bit of propping, and historic home decor, nothing quite says Americana kitchen like a crock!
Minor wear due to age do not detract from the look of this piece, in great condition.
Size measures: 7-3/4"Diameter x 8-3/4"H
R118